Leather Care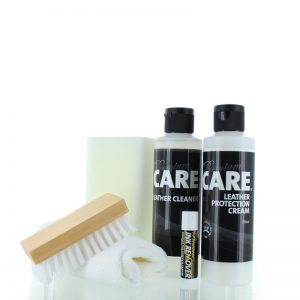 To keep leather furniture looking good for many years to come, the leather must be cleaned, conditioned, and revitalised on a regular basis, using only suitable proprietary products.
The right care and attention makes a big difference to the leather's on-going appearance and performance. Leather furniture will improve with age – developing a gorgeous patina, one of the most highly desired aspects of quality leather.
Protection & Cleaning
Cleaning your lounge is all about keeping the appearance of your furniture beautiful for as long as possible. When you clean your lounge you are not cleaning the leather itself, but the finishes that the tannery has put on the top of the leather.
If cleaning can be kept to surface cleaning then, obviously, it is far easier. Unless a leather suite is cleaned regularly, surface grime becomes ingrained and requires heavier cleaning.
One of the most common problems with leather is a build up of body oils and perspiration. This happens naturally as the furniture is used, but the secret is to clean regularly in order to prevent build up that can begin to break down the protective top coat.
Leather Cleaner
Leather cleaners are very simple to use. For the easiest and most effective application, the solution should be placed onto a damp white or colourfast cloth.
DO NOT

put leather cleaner directly on to furniture. Gently and evenly wipe over the lounge.

DO NOT

rub vigorously – treat the leather as you would your skin.
Leather cleaner should be used sparingly (a little goes a long way) and, if used correctly, the cleaner will be very effective in removing most household marks. It can also be used for spot cleaning in small concentrated areas, to remove more stubborn marks.
Leather Conditioner/Protector (for pigmented leathers)
The leather conditioner/protector perform two tasks with one product.
The conditioner in the solution will soak into the leather on application. Often air conditioning or heating can dry out leather. The conditioner aims to increase moisture levels and lubricate the leather, so that its fibres can flex or bend easily under weight and keep the soft, new feel of the leather.
Avoid the use of any dyed cloths unless you are sure it is dye-fast when wet. There is a risk of the dye transferring into your leather, with moisture acting as a conductor.
Weekly
A gentle wipe-over with a damp cloth every one to two weeks is generally enough to keep new leather furniture in good shape, in between cleaning & conditioning. This helps to remove perspiration, where human skin has come in contact with the leather. A gentle wipe with a damp cloth will not dissolve the layer of protector previously applied, but it will remove the surface dirt from the top of the waxy protective layer. Vacuum regularly to remove dust and other particles.
Monthly
Use proprietary Leather Cleaner and Conditioner/Protector to spot clean any marks. Give your furniture a light overall clean with our upholstery leather cleaner; again paying particular attention to points of human contact. Apply protector to the areas cleaned.
Mold
In areas of high rainfall and humidity it is possible that mold can grow on the surface of leathers. Proprietary leather care products should contain a proven mold inhibitor. Using these products at recommended intervals will prevent mold growing on your Moran leather furniture.
Please Note: If your furniture is used infrequently this overall cleaning can be done every 4-6 months.
Once every five years (or earlier if necessary), have your suite cleaned thoroughly and protected by a professional cleaning company. Accumulated dirt and perspiration will dull the colours and cause accelerated wear in all types of covers.
Chemicals or Solvent based Products
There are many chemicals that can cause permanent damage to the finishes on leathers. For example, pot plants sprayed with leaf food products or insect spray, if inadvertently sprayed onto leather, can be disastrous to pigments and topcoat. The chemicals in some sprays can undo the binders in the pigments.
The damage inflicted is not seen until the next time the furniture is cleaned. When the suite is cleaned, the colour comes off – making you think the leather cleaner has caused the damage. Also be aware of newspaper ink, carbon papers, varnishes, dyes, felt pens, and so on.
What Not to Use on Leather
Pets
Animals transfer hair and body oils to leather just like humans, and these will break down the protective coatings. Try to minimise your pets contact with your leather surface, and maintain regular cleaning.
Belt & Sandal Buckles
These can cut and scar the leather when children play on furniture.
Denim
Indigo dyes in many types of denim can stain light colour leathers. Metal studs found on many denim jeans can also damage the leather's surface.
Heat and Direct Sunlight
These can cause the leather to dry out, resulting in cracks and wrinkles. Avoid long periods of exposure, and regularly check the leather, conditioning if necessary.
Hair Creams or Gels
These should be removed promptly to avoid surface coat breakdown.
Ballpoint Pen
Repeated trials show that very few ballpoint pens will penetrate the Conditioner & Protector, such that the cleaner should remove marks without any aggressive chemicals or rubbing. For best results, it is important to remove ink stains as soon as possible. The ink penetration and light fastness will vary depending on whether the ink is solvent or water based. Any remaining ink should eventually fade away over time.
For cleaning and conditioning your furniture, Moran recommends the Moran Leather Care Kit, available in our online store.