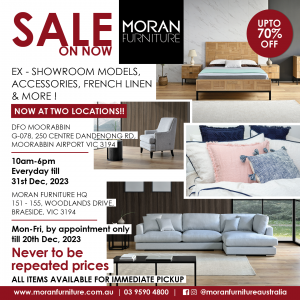 Moran Furniture is designed in Australia for Australians and is an investment in uncompromised luxury and comfort.
A Moran is a statement in style that commands attention. Get the chance to have your own Moran at huge discount!
Get up to 70% OFF* on Ex-Moran models, accessories, french linen and much more!
Sale on now at two locations
DFO Moorabbin
10am-6pm everyday till the 31st of December 2023.
G-078, 250 Centre Dandenong Rd, Moorabbin Airport VIC 3194
Moran Furniture HQ
10am – 4pm, by appointment only
151 – 155 Woodlands Drive, Braeside 3195
Want more details?