EFFECTIVE FROM DECEMBER 2014
10 YEAR WARRANTY
MORAN FURNITURE PROVIDES THIS WARRANTY TO THE ORIGINAL PURCHASER FROM THE DATE OF DELIVERY. TERMS AND CONDITIONS ARE AS FOLLOWS:
SOFAS, CHAIRS, RECLINERS, ACTIVE COMFORT CHAIRS & SOFA BEDS
Our goods come with guarantees that cannot be excluded under the Australian Consumer Law. You are entitled to a replacement or refund for a major failure and compensation for any other reasonably foreseeable loss or damage. You are also entitled to have the goods repaired or replaced if the goods fail to be of acceptable quality and the failure does not amount to a major failure.
These warranties are additional to those statutory warnings by any State or Country where the purchase was made. In no way does the warranty restrict, negate, modify or limit any rights of the consumer under the laws where the purchase was made.
10 YEAR WARRANTY FRAMES
1. Steel structural frame elements are warranted against breakage for a period of (10) years.
2. Timber frames and steel insert frames are also warranted against breakage for a period of (10) years.
5 YEAR WARRANTY on CUSHION INSERTS AND ALL OTHER FIBRE FILLING
3. Seat and back inserts including SpringCell inserts, foam inserts, feather and fibre inserts and Dacron fill inserts are warranted for a period of (5) years. All other fibre filling includes ALL upholstered areas.
Loss of foam resiliency should not be confused with softening of foam or stretched covers, which may result from normal use. Owners of upholstered furniture should also expect foam and fibre fillings to compact over time.
5 YEAR WARRANTY on MECHANISMS
4. Recliner mechanism's including steel springs are warranted against breakage for a period of (5) years. Please note that this does not cover any type of minor sound or noise in the mechanism or unevenness in swivel mechanisms. This is normal and the result of general use.
2 YEAR WARRANTY on POWER
5. Warranty period for defects of new motors and related parts are (2) years.
2 YEAR WARRANTY on LEGS
6. Warranty period for defects of timber and metal legs are (2) years.
2 YEAR WARRANTY LEATHER AND FABRIC
7. Moran leather products are warranted against tearing and cracking for a period of (2) years, Moran Furniture fabric products are warranted for a period of (2) years against seam slippage, fraying and dye transfers.
The fabric warranty does not cover tears, flattening of nap, pilling, fading or shrinkage and is not valid when heavy soiling or abuse is evident.
The warranty does not cover normal fading, damage due to improper use, damage from lack of required caution and/or regular care and maintenance.
The  warranty  does  not  include  claims  for  veins,  wrinkling  or natural  markings  from  healed  scars  or  tick marks or variations in grain or colour. These natural features are proof that only genuine leather has been used.
The warranty does not include stretching of leather or fabric. This is normal and results from normal use.
Exposure of leather and fabric to direct sunlight or extreme light sources will cause fading and damage and is not covered by the warranty.
Moran Furniture assumes no warranty obligations for defects arising from normal wear and tear, accidents, acts of God, negligence, misuse, abuse, shipping/handling or alteration of the products.
Required Maintenance
Proper cleaning and making sure all fasteners are tightened must be performed regularly. Check and tighten all bolts, screws and knobs every (4) months on Active Comfort chairs.
Regular dusting with a damp, clean cloth and the use of appropriate cleaning and protection products performed every (4) months.
Soiled areas of leather or fabric should immediately be cleaned with appropriate cleaners. Do not use any cleaners that contain Kerosene, Silicon and/or Solvents.
Claim Management
When  making  a  warranty  claim,  the  customer  must  contact  the  retailer  where  the  original  purchase  was made.  Your  retailer  will  then  lodge  a  service  request  with  Moran  Furniture.  No  unauthorised  attempt should be made to repair or modify the furniture.
Claims under this warranty will require dated proof of purchase, the product tracking number and receipt of the registered warranty, plus photographic images to support the claim. The claim should be made promptly following the discovery of any alleged defect.
Transportation to and from the retailer is the responsibility of the purchaser, including loss of time and packing.
In-home/onsite  furniture  inspections  performed  by  an  approved Moran  repairer  or  agent  are  free  of charge  for  the  first  12  months.  After  this  12  month  period  expires,  a  house  call  fee  will  apply  to  all  in-home/onsite inspections. This fee is payable by the purchaser; however, if a manufacturing defect is found it will be refunded.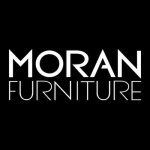 T:1300 786 222
F:1300 361 015
151-155 Woodlands Drive,
Braeside,
VIC 3195